Oil Painting Restoration Specialist in London
We offer professional Oil Painting Restoration in London and the UK. Contact us to discuss your picture cleaning and restoration. Alyson Lawrence is passionate and dedicated to the conservation of fine art. She understands that whilst a painting may not hold excessive economic value; it can be significantly sentimental.
For example, you may have a family heirloom that has been damaged over time. Whilst some may argue that small amounts of wear and tear show the authenticity, restoring and cleaning a painting can help to preserve its condition.
With over 30 years of experience, her reliable and effective service is well-established in the local community. From the studio in Fulham, she has carried out work on oil paintings of all sizes and styles.
The condition of the painting largely determines the level of work required; this can be influenced by factors such as the humidity, temperature and location at which the painting was stored/displayed.
Call 07768 470473 today to discuss your restoration project. Or use the contact form to send an email with your enquiry here.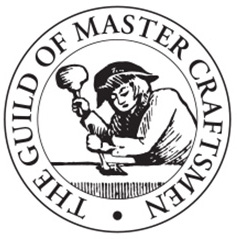 Fine Art Restoration and Repairs
There could be many reasons why you are looking for picture restoration and repairs. She has worked with domestic and commercial clients over the years, including paintings for private homes and art galleries. You can always expect nothing less than the best from the expert restorer at Painting Restorations.
During the consultation, she will provide the most accurate and competitive quote for the work required. Because of the materials used in oil canvas painting and how they have changed over the years, restoration work can sometimes be difficult.
An experienced restorer needs to understand the original technique and media used by the artist before attempting to replicate the work for touch-ups and filling in parts which are missing. The current condition of the painting is also taken into consideration.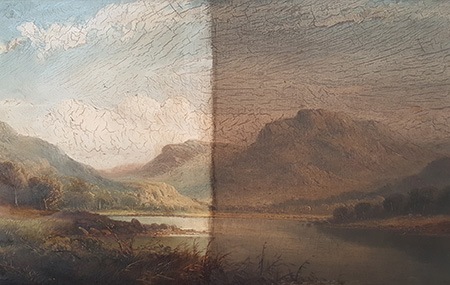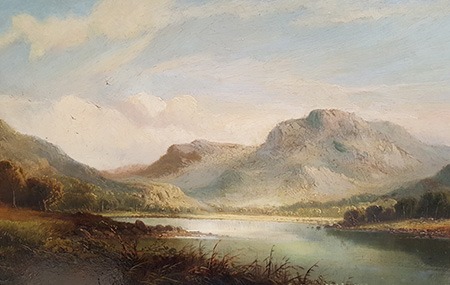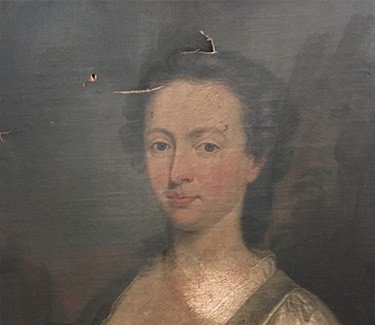 Restoring Damaged Oil Paintings

Over time, even the most beautiful works of art will succumb to the wear and tear. Paintings are also subject to damage in transit and handling.

Painting Restorations are experts in restoring damaged oil paintings. Alyson can carry out small touch-ups and repairs, carefully matching the colours to the existing paintwork.

If the painting has been badly damaged, she can carry out a full restoration which includes re-lining the entire canvas, though this will only be done if there is extensive damage and no other methods will be as effective.
Alyson offers a personal and bespoke service to each of our customers, no matter the size of the project, Alyson will treat it with equal care and importance. During the initial consultation, she will assess the condition of the painting and provide an estimate of how much work is required to restore the painting fully.
Oil Painting Cleaning and Restoration
If you are looking for picture cleaning and restoration specialists in London, Painting Restorations will no doubt be shortlisted. Alyson is a member of The Guild of Master Craftsmen, with years of experience in restoring and repairing paintings in any style. She specialises in restoring oil paintings from 17th century onward.
Alyson understands the value held in these paintings and treats each one due care and attention to ensure you only receive the best quality work and service.
All of the materials used any restoration and repair work are made of natural materials- including a homemade blend of wax used in canvas repair.

For the most effective repair, Alyson only uses traditional techniques and materials to replicate the authenticity of the painting. If any repair work was carried out, great care is taken to disguise the repair work, such as sanding the filled area down to canvas level and matching the colours.
Canvas Paintings Restoration
---
Tears and holes can occur on the canvas from handling and transit. The storage conditions of the painting can lead the canvas being more vulnerable. The solution may be canvas paintings restoration.
Painting Restorations can carry out reversible canvas painting repairs, including small touch-ups where the paint has fallen off, or patch small holes in the fabric of the canvas. Alyson will then carefully match the patch to the existing painting to provide a perfect match.
At Painting Restorations, all of the repair work carried out are with natural materials such as linen and a homemade blend of wax. All of the restoration and repair work are long-lasting; however, if required, they can be reversed in the future.

Alyson has over 30 years of experience in performing restoration work to oil paintings as old as the 17th century; all of her touch-up work is sympathetic to the style of the painting.
Professional Oil Painting Cleaning
Over time, the varnish can turn yellow due to exposure to daylight and oxidising. This can make the painting appear dirty and disguise the true colours. The protective layer can also collect dust and grime. During the initial consultation, Alyson will carefully inspect the condition of the painting- a simple clean may be all that's needed to restore a painting to its former glory.
She will carefully remove the old varnish, and immediately a difference can be noticed. This is especially prominent on older paintings with aged varnish which has absorbed more dirt and dust over the years. The painting appears much brighter in colour, and all the original details are revealed. If only professional oil painting cleaning was required, she will then re-seal the painting and apply layers of new varnish to protect the painting.
Average Cost to Clean an Oil Painting
---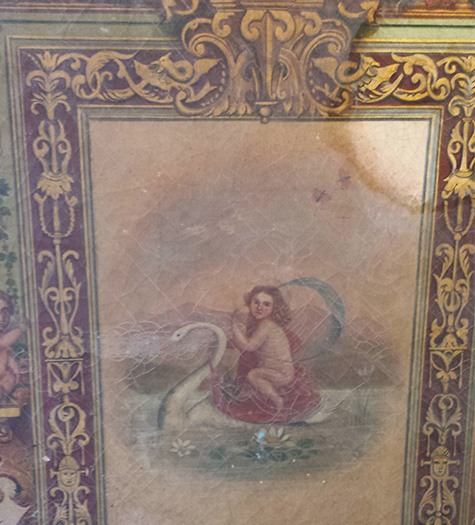 The average cost to clean an oil painting is influenced by different factors, including the skill and experience of the restorer, the current condition of the painting and its size and style. Over the years, artists have experimented with perishable material such as bitumen in their paintings and once deteriorated, its effects can be tricky to replicate.
Painting Restorations have over 30 years of experience in professional painting restoration; you can count on Alyson's understanding and knowledge of oil canvas paintings. Whilst you can purchase oil painting cleaning "kits", it's not recommended to attempt recklessly without relevant experience, especially if the painting holds significant history or value in your family. Professionals are professionals for a reason.
You can clean the surface of an oil painting such as removing accumulated dirt and grime, but never remove any varnish layers unless you have previous experience.
Re Lining Oil Painting Canvas
Oil paintings are made up of layers from the canvas, primer, and numerous layers of paint the artist saw fit to achieve the desired effect. Usually, there are multiple layers of varnish to protect and preserve the painting. For older paintings, there could be extra varnish layers applied by other restorers in later years.
Depending on the condition in which the painting is stored, particularly the humidity, stress can accumulate in the different layers and cause flaking or cracks to appear. The wooden stretcher could also warp over the years, causing shears to the paint layers. If diagnosed, this must be remedied immediately by an experienced professional to prevent any further damage to the painting.
Painting Restorations will only re-line the oil painting canvas if necessary. The process is carried out with traditional techniques and materials to preserve the authenticity of the painting.
Are you in Need of Fine Art Refurbishments?
Here at Painting Restorations in London, we have over 30 years of experience in fine art refurbishments, so we are able to provide all of our customers with the best and most professional service.
If you would like to find out more information, or you have any queries and questions about our services, then please don't hesitate to give us a call today. We are always happy to help and offer our expert advice.
Are you Looking for an Oil Painting Expert Restorer?
If you're looking for an expert oil painting restorer around the London area, then you've definitely come to the right place. Alyson, who is an amazing oil painting restorer, has years of experience and does an excellent and professional job.
We understand how frustrating it is to have a painting that has lost its picture, but we also understand how personal paintings are to their owners. This is why we provide a personalised service and ensure we meet all your specifications.
Oil Painting Restoration Near Me
If you require oil painting restoration in the London area, get in contact today. We offer painting restoration services throughout the following areas:
Barking and Dagenham
Barnet
Bexley
Brent
Bromley
Camden
Croydon
Ealing
Enfield
Greenwich
Hackney
Hammersmith and Fulham
Haringey
Harrow
Havering
Hillingdon
Hounslow
Islington
Kensington and Chelsea
Kingston upon Thames
Lambeth
Lewisham
Merton
Newham
Redbridge
Richmond upon Thames
Southwark
Sutton
Tower Hamlets
Waltham Forest
Wandsworth
Westminster
Why Choose Our Oil Painting Restoration Services?
Our painting restoration services are second to none, and we work extremely hard to ensure all of our customers receive the best service possible. We have many years of experience and have gained knowledge and professionalism to ensure your paintings are restored just how you want them.
We provide our customers with excellent customer service skills, affordable prices and exceptional results. We are based in the London area, and we have had many fantastic reviews from our previous customers.
Call 07768 470473 today to discuss your restoration project. Or use the contact form to send an email with your enquiry here.

Painting Restorations
Parsons Green
Fulham
London
SW6 4UH